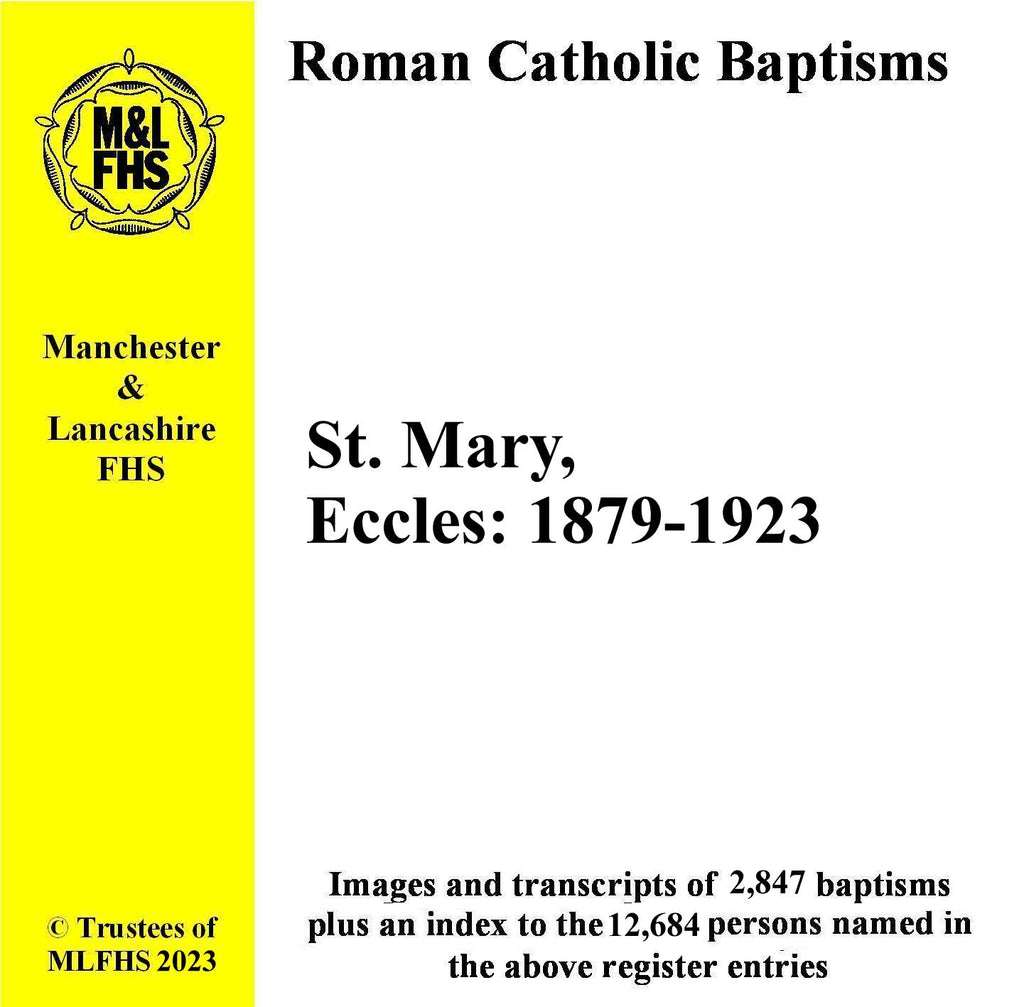 MLFHS Online Shop
Salford, Eccles, St. Mary's RC Church, Baptisms 1879-1923 (Download)
Code:
A scanned copy of the original baptism registers 1879-1923 complete with a transcript of the 2,847 baptisms performed and an index to the 12,684 names of children, parents and godparents which appear in the register.
St. Mary, Eccles: 1879-1923
In the year 1849 a school was begun in a hired cottage situated in Barton Lane. This was one of the many off-shoots from the church at Barton under Canon Kershaw.
The success of this venture encouraged the Canon to set up school premises on land given by Sir Thomas de Trafford. These were opened in 1857.
Large additions were made in 1871 on land provided by Sir Humphrey de Trafford, and from that year the school was used as a temporary chapel, served from Barton.
Father T. Sharrock was made first Rector in 1879, but died prematurely in 1893. He was succeeded by Fr. Newton, who was here for thirty years until his death in 1924.
The present [1950] parish priest, Fr. J. Drescher, was appointed in that year.
The magnificent church owes much to the generosity of the de Trafford family, who contributed some £20,000 towards this parish. From the same family the parish has received several treasures, notably a valuable old monstrance, and a valuable chalice once used in the private chapel of the de Trafford family. The parish also possesses a valuable cloth of gold banner from Arras Cathedral, France.
Many great preachers have spoken from the pulpit of this church, amongst others being Fr. Bernard Vaughan, and the Archbishop of Liverpool.
The above description is based on information published in "Salford Diocese and its Catholic past", a survey by Charles A. Bolton, a Priest of the above Diocese. Published 1950 on the First Centenary for the Diocese of Salford.
About this Transcript
The information which is contained in this download has been transcribed from the original registers, scans of which are included. Information has been indexed as written. The originals are held by the Lancashire Record Office at Preston.
---
Share this Product
---
More from this collection